ELEMENTS DE STATISTIQUE DEMOGRAPHIQUE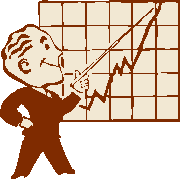 ELEMENTS OF POPULATION STATISTICS
OBSOLETE - wait
De Paul et de Catherine Splingaerd, qui eurent 13 enfants, seulement 4 des leurs assurèrent une descendance. Les reconnaissances de paternité et les adoptions sont assimilées. Suite à des adoptions de fait ou légales, il y eu au moins deux enfants portant le nom chinois (Lin).
From Paul and Catherine Splingaerd, who had 13 children, only 4 of them gave offspring. Recognitions of paternity and adoptions are treated. Following adoption of fact or law, there were at least two children carrying the Chinese name (Lin).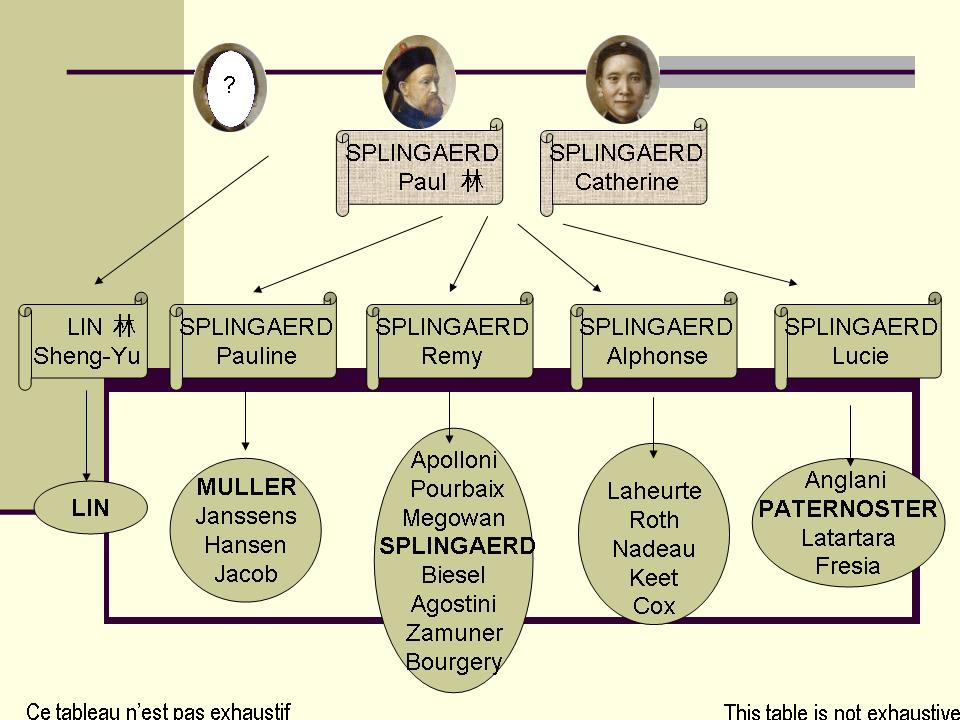 ---
LES SIX BRANCHES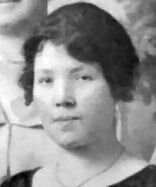 1- Pauline Splingaerd --> Muller. Cette famille est revenue en Belgique après la première guerre. Un enfant a été partiellement élevé par la soeur Thérèse Splingaerd, sans enfant. Cette famille n'a pas donné beaucoup de descendance. Le patronyme Muller a été préservé dans une faible proportion.
2 - Lucie Splingaerd --> dynastie des Paternoster. Le patronyme secondaire a été conservé. Prédominance des garçons. Beaucoup de nouveaux patronymes de remplacement
3 - Alphonse Splingaerd --> le patronyme n'a pas été conservé. Prédominance des filles. Beaucoup de nouveaux patronymes où dominent les NADEAU et descendants et les KEET.
4 - Remy Splingaerd --> le patronyme a été conservé. Un survivant mâle: Jean-Pierre Splingaerd (Peter), un dernier porteur du nom: Tamara Splingaerd qui ne transmettra pas. Prédominance des filles apportant de nouveaux patronymes mais moins que pour Lucie encore que l'on doive encore développer l'Amérique du Sud et la France avec Apolloni et Biesel, etc.
5 - Sheng Yu Lin --> le patronyme 林 a été conservé mais il ne subsiste que 15 porteurs identifiés vivants à Taiwan et en Chine
6 - Lin Gui Sheng Stanislas, 林 桂 生 Il subsiste une dame portant le nom de Lin (Tianjin)
1-Pauline Splingaerd --> Muller. This family is returned to Belgium after the first war. A child was partially raised by Therese Splingaerd, without children. The surname Muller has been preserved, but with a little proportion.
2 - Lucie Splingaerd --> dynasty Paternoster. The secondary name has been retained. Predominance of boys. Many new names replacement

3-Alphonse Splingaerd --> the surname has not been retained. The predominance of girls. Many new surnames dominated by NADEAU and descendants and KEET.

4 - Remy Splingaerd --> the surname has been retained. One male survivor: Jean-Pierre Splingaerd (Peter), a portion of the name Tamara Splingaerd who will not. The predominance of girls adding new surnames but less than for Lucie.
5 - Sheng Yu Lin --> the surname 林 has been retained. But there remains only 15 carriers identified alive in Taiwan and in China
6 - Lin Gui Sheng Stanislas, 林 桂 生 Il subsiste une dame portant le nom de Lin (Tianjin)
CONCLUSION: dans un peu plus de cinquante ans, le patronyme Splingaerd issu de Paul aura disparu sauf si les Chinois continuent à utiliser le double nom
CONCLUSION: in a little more than fifty years, the surname Splingaerd from Paul would have disappeared.
Il ne reste que:


Louise Splingaerd Laheurte (USA)
Renée Splingaerd Roth (Suisse)
Jean-Pierre Splingaerd (USA)
Anne Splingaerd Megowan (USA)
Tamara Splingaerd (USA)
Lucie Splingaerd Bourgery (Monaco)

Lin Jia Lu (Carlo Lin) (China)
Lin Xiao Xia (Maria Splingaerd) (China)
Lin Yin Nian 林蔭年 (China)
Lin-Splingaerd Hsiang-ti 香蒂林 (Taiwan)
Lin Min-ti 敏蒂林 (Taiwan)
Lin Fei Yan (China)
Lin Jia Zhen (China)
Lin-Splingaerd Ling (China)
Lin Yi Xuan (China)
Lin Jia Dong (China)
Lin Nan (China)
Lin Jia Sheng (林嘉盛)(China)

de la branche de Stanislas:

Lin Yu Xiao (China)

Note: "China" désigne le pays qui se décline (en français) "République Populaire de Chine". C'est la Chine continentale.

"Taiwan" désigne le pays qui se décline (en français) "République de Chine".
LES NOUVEAUX PATRONYMES - THE NEW SURNAMES
Outre Splingaerd, Lin (林), Paternoster et Muller, les nouveaux patronymes connus sont, en vrac:

Moreover Splingaerd, Paternoster and Muller, the new surnames are known, in bulk:
ACOSTA AGOSTINI ANDERSON ANGLANI APOLLONI BAKER BARTLETT BASSAN BAYART BERNARDE BERTOSSI BIESEL BIRCH BLACK BOURGERY BOWEN BREGNARD BUXTON CAFFRONI CANNATA CASTAIGNE CHIEREGHIN CHUANG(莊國) COCKER. COX de BROUWER DE MICHELLI DE VITO DEBREMAEKER DEMEULENAERE DE ZAVATTI DIAZ DUPEROUZEL ELLIOTT EVRARD FAN (范) FORTE FRESIA GASPARD GRIFFIN HANSEN HARRINGTON HERRERA JACOB JAIMES JANSSENS KEET KESHET LA CAVA LABONITE LADEIRA LAGUNA LAHEURTE LATARTARA LIANG LIM LUCKINGS LUGO LUPO MAVEL MAY MEGOWAN MIJARES MULLER MURAKAMI NADEAU OLDS OLLIVIER O'NEIL OUELLETTE OZENDA PATERNOSTER PLOURDE POURBAIX POWELL REGOUT REINHARDT ROJAS ROSE ROTH SALAÜN TUCKER van DOORSLAER de TEN RYEN VAN GEMERT VAN HECKE VANDEKERKHOF WARREN YATES ZAMUNER ZHANG ( 张)

Il est à noter que certains patronymes cités n'ont pas encore donnés de descendants à Paul Splingaerd.
Certains patronymes ne donneront plus lieu à descendance
Soit 90 nouveaux patronymes; il doit encore manquer quelques patronymes non encore documentés.
Si cette liste n'est pas complétée d'ici que le webmaster ne s'en désintéresse, elle ne le sera sans doute jamais. Les familles doivent compléter.
It should be noted that certain surnames quoted have not yet given to descendants of Paul Splingaerd.
Some surnames no longer give rise to offspring
Either 90 new surnames, but has yet to miss at least twenty surnames not yet documented.
Families must be completed.
GENERATIONS
On en est à la cinquième génération. Nous ne distinguons pas de sixième. Deux exemples:

It is in the fifth generation. We do not distinguish sixth. Two examples:
1 - Remy Splingaerd
2 - Mary Splingaerd -> Lucien Pourbaix
3 - Paul Pourbaix
4 - Alban Pourbaix
5 - John-Alexis Pourbaix
Pourbaix est donc un élément dominant non volumineux (Pourbaix is a dominant element not voluminous)
1- Alphonse Splingaerd
2 - Madeleine Splingaerd -> Gerald Keet
3 - Alan Keet
4 - Denis Anthony Michael Keet
5 - Luke Keet
Keet est un élément dominant potentiellement volumineux (Keet is a dominant element potentially large)
ASPECT
Même après cinq générations, on constate que le caractère eurasien des descendants de Paul Splingaerd est assez bien conservé, observable particulièrement chez les sujets très jeunes ou les sujets âgés. Ce caractère est d'autant mieux constaté dans certaines familles où il semble exister une propension à l'alliance avec d'autres eurasiens ou avec des asiatiques. En outre, on avait certainement remarqué que le caractère eurasien était plus marqué sur les filles du mandarin que sur les garçons, mais n'est pas forcément observable sur leur propre descendance.
Even after five generations, we find that the Eurasian nature of Paul Splingaerd'descendants is fairly well preserved, particularly observable in subjects very young or the elderly. This character is even better seen in some families where there seems to be a propensity for alliance with other Eurasian or with Asia. In addition, it was noticed that the Eurasian was more pronounced on girls of Mandarin as the boys, but is not necessarily observable on their own offspring.
LES DESCENDANTS DE LIN CONNUS A CE JOUR
THE DESCENDANTS OF LIN KNOWN TO DATE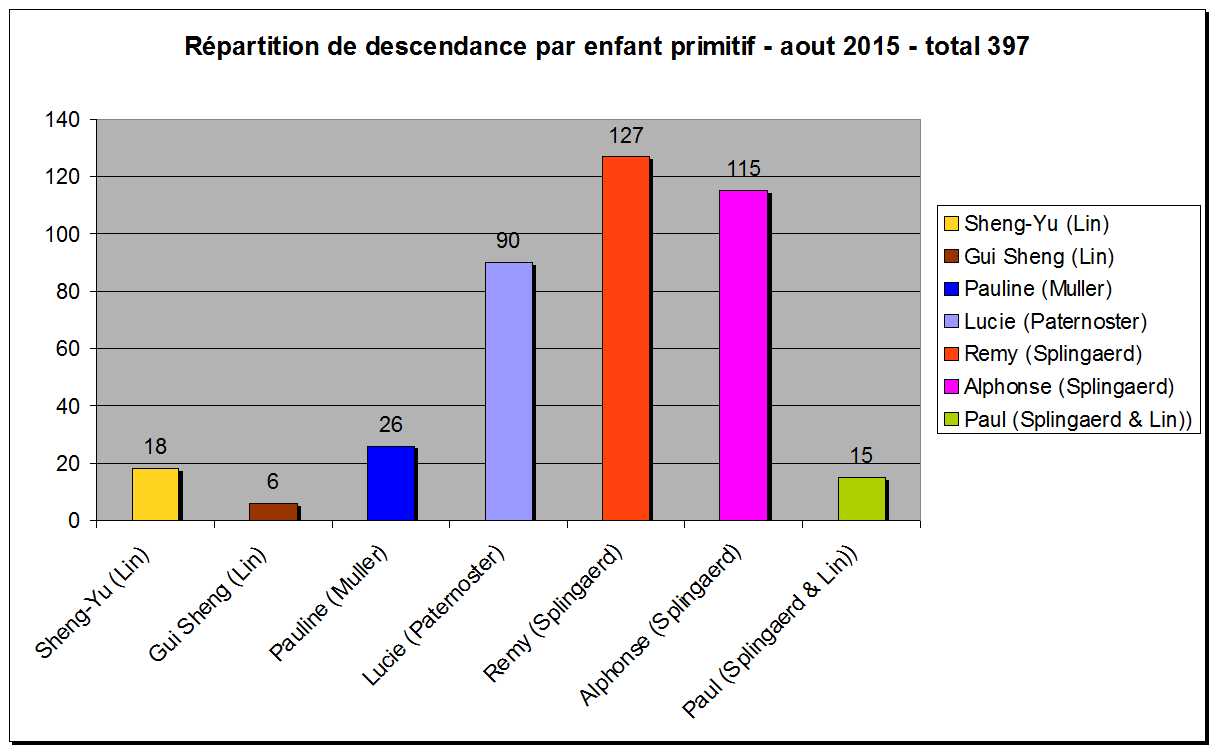 Mise à jour: nous connaissons 397 descendants à Paul Splingaerd
Rappellons que les enfants adoptés et/ou assimilés par tradition font partie de notre statistique
SURVIVANTS
Les 15 enfants sont décédés.
Sur les 26 petits-enfants, il en reste 2 en vie: le frère de Mathias Lin (Paolo Lin) et Lucie Splingaerd-Bourgery.
Dix-sept arrières-petits-enfants sont déjà décédés.
REPARTITION MONDIALE (fevrier 2016)
Sur les 397 [426] descendants de Paul Splingaerd, il semble qu'il en reste 341 identifiés actuellement en vie. Il est évident qu'il y en a plus.
Ajoutons qu'il s'agit ici d'approximations car on ne connait pas toujours exactement à quel endroit les descendants vivent actuellement et parfois, on ne sait pas s'ils sont morts ou vivants.
Ils sont répartis sur une vingtaine de pays sur le globe, mais il y en a probablement plus, avec prédominance de 7 pays, la palme revenant pour l'instant au USA.
On the 397 descendants of Paul Splingaerd, it seems that they remains 341 about it currently identified in life. It is obvious that there is much more. Let us add that they are here approximations because one did not know always exactly at which place the descendants live currently and sometimes, one does not know if they died or alive. They are distributed on about twenty country on the sphere, but there is probably more, with prevalence of 7 countries, the palm returning for the moment in USA.
Le premier enfant adopté est Stanislas Splingaerd-Lin (Lin Gui Sheng 林 桂 生) dont nous connaissons un seul Lin survivant et un adulte sans enfant (Zhang). Mais cette branche doit encore être développée.
REMARQUE: il existe une certaine ambigüité en ce qui concerne les ressortissants de Suisse et de France par manque de contact avec les familles qui se montrent réservées ou qui ne veulent pas participer. Il s'ensuit que nos estimations sont sujettent à caution. Aux familles de réagir.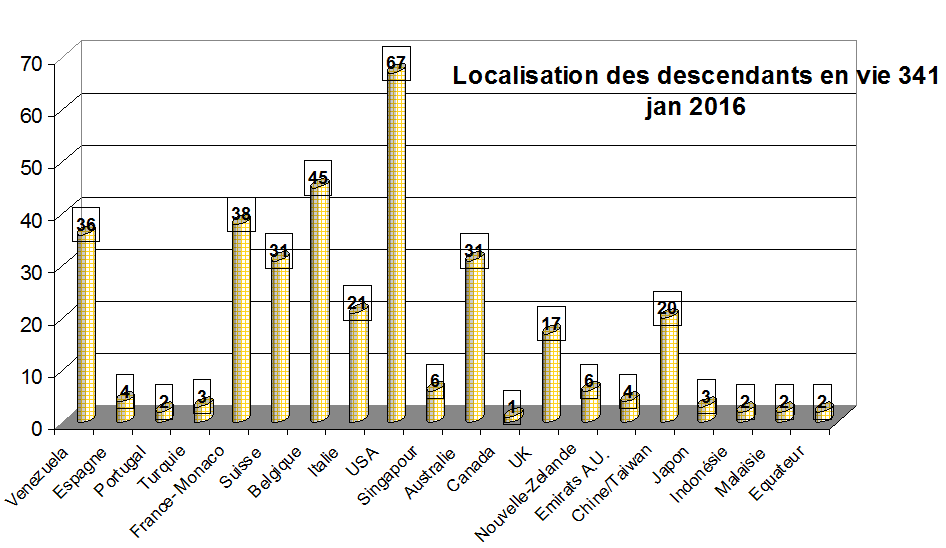 Map de la répartition mondiale (octobre 2015)



Close this window to continue


Christian Goens - La Louvière - Belgium - june 2010 - mars 31, 2016 - tous droits réservés
last update 1-mai-19